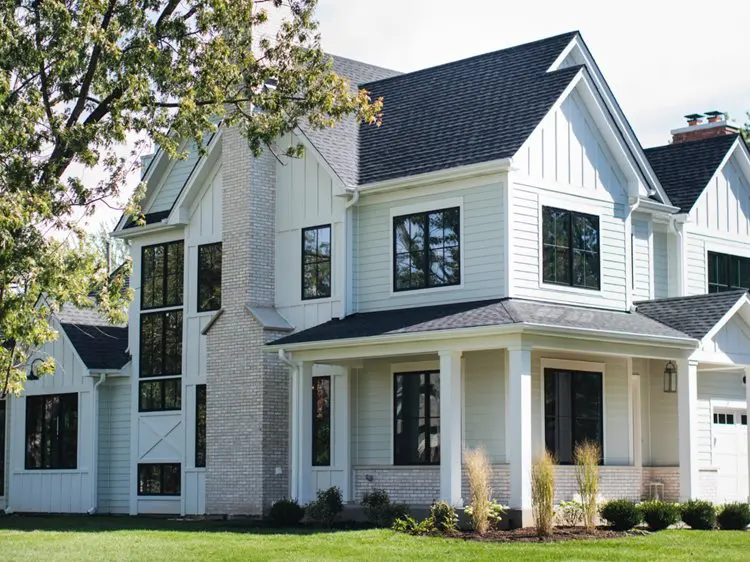 Board and Batten Siding became popular here in America starting way back in the 1840s. First brought to the United States as an influence import from age-old home siding styles popular in Norway and Sweden.
Today, Board and Batten siding is everywhere.
You see it all over the internet on social media wish lists, home exterior design trend blogs, and in modern architectural texts. Most people would know it if they saw it but still may not know what its formal name is. We put this blog together to answer these questions and a few more.
What is Board and Batten Siding?
Even though it's recently become trendy again, people have been using board and batten siding for over 200 years. I think that's why people like it. It gives your home a classic look that
evokes Americana.
The style evolved as an alternative to log cabins. Board and batten design is made up of vertical planks (boards) joined with narrow vertical strips (battens). Builders used sawmills to cut the wood to build these houses; they used siding to cover any wood gaps and prevent leaks.
Barns featured board and batten siding because it was easy to make, kept the barn warm, and did an excellent job stopping the rain.
How to Use Board and Batten Siding?
The nice thing about board and batten siding is that it's versatile. You can have the rustic farmhouse of your dreams or have an upscale contemporary house with a classic look. Much depends on how you space the siding out, your chosen colors, and your home's style. Suppose the siding is too old-fashioned for your tastes. In that case, you can use it in conjunction with other types of siding and completely change the entire aesthetic mixing and matching styles or using the board and batten look to highlight an area of your home.
Here is Westchester we have seen homeowners use board and batten siding to add a little fun to the garage's exterior or paired it with shake siding to create a more rustic mountain
look.
Check out this collection of pinned board and batten home projects on Houzz, you'll see just how versatile it can be. This siding can be used to look classic or modern, can be the primary siding style, or for use in creative ways as the accent element.
How GAINT Can Help:
Builders initially made the siding out of wood, but wood not only invites water damage but also invites termites and other pests. James Hardie Siding makes board and batten siding out of fiber cement. It looks great, is durable, and isn't as expensive as wood. As far as design ideas, the only limit is your imagination. For tips and design ideas on how to use James Hardie products.
I'm Perry Hayes, owner of Giant Siding and Windows. I love Westchester, and I want to help folks transform their homes! If you have any questions about siding, home design, or window installation, let's talk! I am passionate about my work and will be happy to answer any questions you may have!